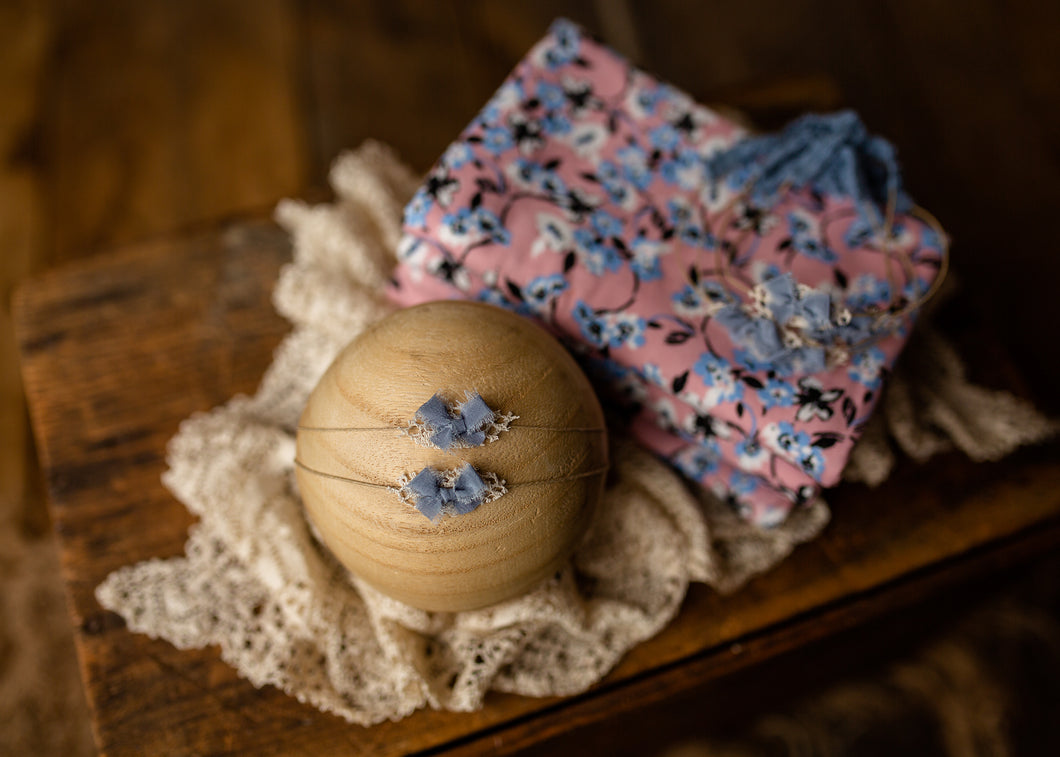 limited-edition "choice of" teensy bow headband or "Aurora" DreamSoft wrap
Regular price $22.00 Sale
Please take notice in the product listing and/or product drop down menu if your selection is ready-to-ship (RTS) or preorder.  This professional photography prop listing is for an item as described and does not include any other items show in styled product images. 

If you are ordering a PREORDER item, please plan for approximately six weeks for batch production.  You may receive your item sooner, but please plan for maximum production time. If your order contains a preorder item, all items will be shipped together upon preorder completion.  Thank you for your patience during the careful creation of this handmade artisan prop.

All ready-to-ship (RTS, premade) items ship approximately once a week for the sake of efficiency. If you need your RTS items to ship immediately to meet a session deadline, please send me a message and I will get it out right away.  Following a shop update, RTS shipping may extend out to two weeks due to the sheer volume of orders and being a one-person business. Please do not hesitate to message me.  I am more than happy to get your order out immediately if you have a session deadline.

***PLEASE consider adding the "add-on signature confirmation" product listing if the risk of mail theft is a concern. I package every order with extraordinary care, but as a small business I can not be responsible for replacing or refunding package theft, incorrect delivery by the post office, etc.  I highly recommend this very inexpensive peace-of-mind (under $3, available to USA orders).***
Huckleberry Baby Prop reserves the right to reproduce any headband previously created as desired, without permission, including headbands originally designed as one-of-a-kind. I strive for consistency when making multiples of a design, but due to the hand-made nature of these items, variances may occur from piece to piece.  This may include silk texture, hand-dyed silk colors, silk and accent piecing, and greenery/accent/organic/floral substitutions when necessary.

SMALL PART RISK DISCLAIMER:  THIS ITEM CONTAINS DELICATE, SMALL PARTS THAT ARE A CHOKING RISK AND IS NOT FOR REGULAR WEAR.  ITEMS FROM HUCKLEBERRY BABY PROP ARE EXCLUSIVELY FOR PROFESSIONAL PHOTOGRAPHERS FOR USE DURING DIRECT SUPERVISION AT PHOTOGRAPHY SESSIONS.  PLEASE USE WITH CAUTION AND FULL, UNDIVIDED ATTENTION.  INJURY OR DEATH CAN OCCUR.  HUCKLEBERRY BABY IS NOT RESPONSIBLE FOR ANY INJURY RESULTING FROM THE USE OR WEAR OF THEIR PHOTOGRAPHY PROPS.
Join my email mailing list (used sparingly), here: http://eepurl.com/doaVSX